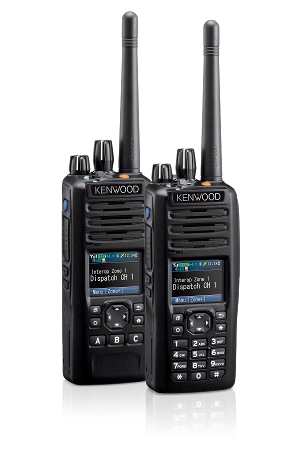 VHF  •   UHF  •   700/800 MHz  •  P25 PHASE 1 & 2  •  LTR
Compact P25 Phase 1/Phase 2 radio with large transflective color display, built-in GPS & Bluetooth® is a great fit for public works or public safety agencies looking for a smaller feature rich radio.
FEATURES
Digital operation in P25 Phase 1 & Phase 2
P25 Phase 1 Conventional/Trunked Operation (standard)
Mixed Digital, FM Analog & LTR Operation allows migration in mixed sites
Large, color 1.74" (240 x 180 pixels) Transflective TFT Display for better use in direct sunlight & with use of polarized sunglasses
Easy to follow GUI for at-a-glance operational status checking & multi-line text
4-way Directional-pad (D-pad) & 2-Position Lever Switch for intuitive control
Built-In GPS Receiver/Antenna for effective fleet management
Bluetooth® Module built-in for hands-free operation
Renowned audio quality with Active Noise Cancelling that utilizes built-in DSP with two microphones for suppression of ambient noise (dual-mic)
Built-in 56-bit DES Encryption (4-key DES standard)
Optional 256-bit AES Encryption
Built-in motion sensor for life-critical man down detection
microSD/microSDHC Memory Card Slot for increased voice & data memory capacity
IP67/68 & MIL-STD-810 C/D/E/F/G
Full key models (w/numeric keypad) & standard key models (w/o numeric keypad)
1 W loud speaker audio
COMPATIBLE WITH MULTIPLE P25 SYSTEMS
EFJohnson ATLAS® P25 System
Motorola® Systems:

Motorola Astro® 25 - P25 Phase 1 & Phase 2
Motorola Astro® SmartNet®/SmartZone®

Harris VIDA® - P25 Phase 1 &  Phase 2 
Airbus (formerly Cassidian) VESTA™ Radio - P25 Phase 1 & Phase 2
ACCESSORIES
Complete line of accessories including microphones, speakers & antennas. Download the accessory catalog.