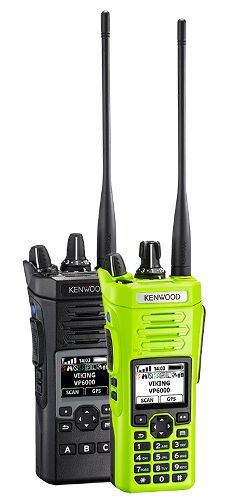 VP6000 - VHF |  UHF  |  700/800 MHz  |  SN/SZ  |  P25 Phase 1 & 2
New KENWOOD Viking 6000 series portable is specifically designed for today's public safety agencies with advanced features and ergonomics to meet the first responder's mission critical operational needs.
FEATURES
Mixed protocol operation (Phase 1 & 2, SmartNet®/SmartZone®, FM Analog)
Mixed protocol zones (each channel in a zone can be from a different system)
1024 channels (2048 option)
Public safety ergonomics: flare grip for total control, large glove friendly knobs, large emergency button
1 Watt audio output for high noise environments
Voice annunciation & custom announcement creation
Fully ruggedized - IP67/68 & MIL-STD-810 C/D/E/F/G
Full key models (w/numeric keypad) & standard key models (w/o numeric keypad)
Built-In GPS receiver/antenna for enhanced awareness
MDC-1200 & GE-Star signaling
P25 Authentication
Bluetooth®*
Man Down*
Encryption

ARC4™ software encryption; compatible with Motorola ADP™ 
P25/TIA defined: AES-256
DES-OFB
Over-the-Air-Rekeying (OTAR)
VK5000 or Motorola KVL3000/KVL4000 Keyloaders
*Future Availability
USER SELECTABLE COLOR THEMES
Multi-line text
Top flip display changes text orientation for viewing while in holster
Multiple visual indicators including battery health & signal strength
Backlight changes for event indication (ex. emergency turns display orange)
Day & night user selectable display options (7 themes available)
COMPATIBLE WITH MULTIPLE P25 SYSTEMS
EFJohnson ATLAS® P25 System
Motorola® Systems:

Motorola Astro® 25 - P25 Phase 1 & Phase 2
Motorola Astro® SmartNet®/SmartZone®

Harris VIDA® - P25 Phase 1 &  Phase 2 
Airbus (formerly Cassidian) VESTA™ Radio - P25 Phase 1 & Phase 2
ACCESSORIES
Complete line of accessories including microphones, speakers & antennas. Download the accessory catalog.